We offer same day piercing appointments. You must call ahead to schedule a time to come in. Our phone number is linked on here. Just click on the number. Remember to

sanitize or wash your hands. Come alone or with no more than 1 person to avoid crowding. Additional Friends may be asked to wait outside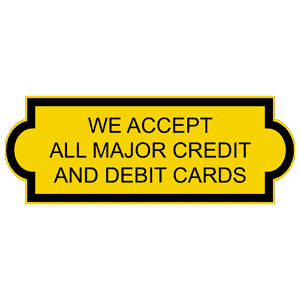 16A Willow Street
Jamesburg NJ
We are an extremely friendly shop of Talented, Highly trained, Award winning artists, and highly Creative people located in the heart of Central New Jersey. Our Piercing team is also second to none. We only use high quality jewelry and piercing supplies for our clients who prefer things be done right, the first time, at an affordable price. We are within 10-15 minutes of Monroe, Manalapan, Old Bridge, East Brunswick, South Brunswick, New Brunswick, Spotswood, Princeton Junction, Plainsboro, Millstone, and East Windsor!





Walk- in Wednesdays are our busiest day, and we always do our best to accommodate all requests.




We require deposits on all of our scheduled tattoos.




We accept credit and debit cards as forms of payment.




Photo ID is

required

in order to obtain any of our services,

minors need a birth certificate, passport, or School ID. You must be 16 and over for a tattoo. We also pierce kids ear lobes ages 5 and up. Nostril, Navel, and cartilage 14 and up. Septum, Industrial, daith, and eyebrow 16 and up. Dermals, nipples, and forward helix 18 and up
WELCOME TO
INK THERAPY
TATTOO & PIERCING
MONDAY 11-6




TUESDAY 11-8




WEDNESDAY 11-8




THURSDAY 11-8




FRIDAY 11-8




SATURDAY 11-8




SUNDAY - Closed
All Tattoo pricing is done in person ONLY !!


Piercing ranges from $45-125 All our pricing includes
jewelry and aftercare - No gimmicky sales tricks
Bring Photo id. NJ State ID (DL) or passport
including Minors. school Id, or passport,or nj DL or non driver id. must be accompanied by Parent with I.D also or court ordered legal guardian
under14 just a birth certificate (earlobes only under 14)
Joe is an Award winning Tattoo artist specifically for cover-ups. His Work and story have been published in 2 magazines, He also Travels to Europe a few times a year to Tattoo with friends abroad. Joe is an amazing professional piercer as well as a dynamic tattoo artist. Only the best tattoo and piercing results will be good enough for him. He is constantly pushing to be the best version of himself.




Customer service, talent and determination describe his assets best. Check him out, or better yet, stop in and see for yourself.



Jenna is a dynamic Tattooer who has established herself as a strong tattoo artist and works hard every day to get even better. We love what she brings to the whole team. She has a bachelors degree in Graphic Design
Kevin is an Awesome tattooer nearly 30 years in the business. he does our walk ins every Wednesday. He has also created flash designs used all over the world. Kevin has spent his lifetime traveling to India and immersing himself in the culture. We are proud to have him here and offers us a perspective that comes from a place of peace and humility. he also understands some Hindi and Gujarati
Dave has been Tattooing since 2004 and doing it at a high level. he comes from a line of highly respected and accomplished tattooers. He is a complete professional and a straight shooter and will give you all the pros and cons of your tattoo. Dave speaks fluent spanish also - Habla espanol tambien
Piercing ranges from $35-75 our prices include the jewelry and the aftercare
We have titanium jewelry and implant grade surgical steel
Bring Photo id. NJ State ID (DL) or passport including Minors. Minors need school Id, or passport, or nj DL or non driver id.
Minors must have a parent or Legal Guardian with them
Under14 just a birth certificate (earlobes only under 14)
There is a $25 Administration charge to print I.D. please come in with the documents needed
Ink Therapy
Tattoo and Piercing
*To Book Appointments and get Pricing you have to come in
We dont price or schedule via email
Piercing Call For a same day appointment
​
16A Willow Street
Jamesburg NJ 08831
​
fb - Ink Therapy NJ
ig @Ink_Therapy_NJ